It takes a wide range of expertise and technologies to create a single industrial IoT solution, which is why we believe working with partners is critical to extracting the maximum benefit for them and their customers.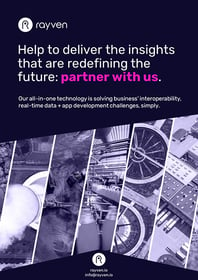 Rayven enables our partners to meet their customers' technology needs, solving real business problems in the process.
Partnering with us enables you to deploy IoT solutions using our integrated data, AI + IoT platform, develop new products, open up novel revenue streams, or move up your customers' value chain, all without having to worry about the technology that achieves it.


Discover more about the benefits of partnering with Rayven, our platform + syndicated applications:

download our Partner Brochure now

.
Our offering is specifically designed to help our partners and their projects to avoid those pitfalls, so partner with Rayven and ensure your success.
Download the brochure to find out more or speak to us today.