PLF Australia, based in Emerald, Central Queensland, designs and delivers sensor-based, on-farm real-time monitoring and management systems designed for agribusinesses.
The goal for their technology is to provide farmers with a means through which they can optimise their performance and increase profitability by providing them with the insights needed to make better decisions, faster.
PLF Australia utilises the Rayven Dynamix data, AI + IoT platform to connect their sensors and builds use case-specific solutions that utilises Rayven's AI Dynamix engine to deliver adaptive and predictive analytics information via tailored dashboards and reports.
At present, PLF Australia and Rayven are working together to monitor 9 different sites, collecting and monitoring real-time data from multiple sources in the field, including: water tank levels, water flow rates, soil moisture and temperature, local weather and rainfall, as well as asset location tracking.
Critical to the solutions success are the tailor-made dashboards which, through extensive UX testing, are able to provide the users with the information that they need, simply, and are accessible via desktop as well as mobile devices in field.
Features of the solution include: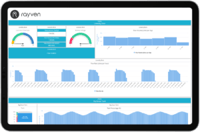 Water Flow Analysis
On a single dashboard, water tank and water flow data can be displayed – reflecting the actual set-up of these assets in the field – with the solution's sophisticated analytics highlighting to users how water flow from a specific asset can influence water levels elsewhere.
Irrigator Pivot Tracking
A GPS unit tracks the location of a pivot, with SMS alerts triggered to be sent to users when the pivot begins moving and when it completes a full rotation. Should the pivot stop in mid-cycle, which could result in significant water wastage and potential crop loss, the farmer will receive an SMS notification. The map widget can be used to view the device's current location as well as where it has been historically.
Productivity Analysis
Using the solution, users are able to enter real-world information (such as the number of cattle in each paddock, how many litres of water they need per day, etc.) which then collates and merges that data with the in-field data collected in real-time via sensors. The solution will then use that information to calculate, for example, how much water has been supplied to each individual paddock and provide predictive analytics that guides users as to how many cattle can be maintained on each paddock at any given time to prevent under and over stocking.
Local weather data
The solution involves an on-farm weather station and is integrated with third party weather data, providing users with real-time current and forecasted weather data within the single platform. Updated hourly and daily, the insights that it provides can be combined with other measures to provide further insights for that individual property, for example rainfall data can be combined with soil moisture charts to analyze how each paddock or field reacts.
PLF Australia and Rayven are currently working together to add further functionality to the solution, with the aim of providing agribusinesses with a 360-degree view of their entire operations. The goal is to enable customers to make it easier to achieve their goals and help them to better manage their agribusinesses in light of the changing climate, maximizing returns and ensuring profitability.
For more information on PLF Australia, visit: www.plfaustralia.com.au or visit their partner page on the Rayven website.