Industrial suppliers with huge amounts of knowledge in their sectors are at risk because of the evolution and commoditisation of Industry 3.0 and Industry 4.0 technologies, as well as the broader growth of AI and data science disciplines.
No-one is suggesting that industrial businesses aren't going to need the parts, machinery or physical hardware that keep operations running, but what we are seeing is that novel technologies are changing the spaces where they operate and that purchasing decisions are increasingly influenced by the ability of these assets to deliver measurable improvements and actionable insights. What's needed is data.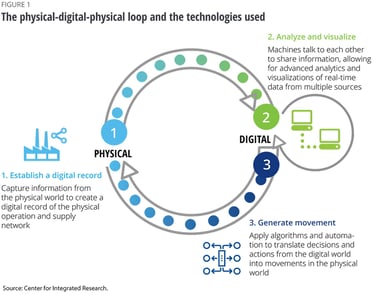 Data lies at the heart of transformation, playing a pivotal role in helping businesses meet their escalating environmental, efficiency, and productivity goals. Real-time data interpretation and insight dissemination to personnel and connected machinery not only enables businesses to optimise in the moment, but also provides the data sets upon which machine learning, automation, and AI rely to achieve even more.
Delivering on this is complicated and many industrial businesses lack the understanding and expertise to make use of these technologies themselves (read more about developing a roadmap here). They are, therefore, relying on their suppliers to guide them.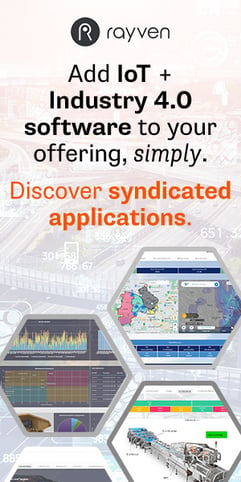 As these sorts of technologies become more commonplace, suppliers that are able to deliver on the complete end-to-end vision and make incorporating these technologies simpler are going to win-out over those that can only deliver on a single piece of the puzzle. Few businesses, however, are in a position to suddenly become software developers overnight - fortunately, they don't need to be.
As much as these new technologies are being created to help industrial businesses do more, they're doing the same for suppliers, also.
This means that if your business provide the parts, machinery, and sensors that an industrial customer needs, it is now also possible for them to use an integrated data, AI + IoT platform (or work with the technology company, like Rayven, directly) to create the white-labelled syndicated applications needed to make sense of the telemetry and data generated by them, whilst also adding Industry 4.0 capabilities, all without writing a single line of code (read more about syndicated application here).
The software opportunity.
Incorporating software and delivering custom applications isn't just a way of future-proofing your business, it unlocks a number of benefits for suppliers:
Expand your value proposition: By bundling software solutions with hardware, you significantly expand your value proposition. Software allows you to provide comprehensive, end-to-end solutions that go beyond the capabilities of hardware alone, creating a clear differentiation in the market that increases customer loyalty, retention, and improves lifetime revenue.
Unlock the potential of data: The industrial Internet of Things (IoT) has given rise to vast amounts of data that can be used to drive efficiencies, reduce costs, and create new business models. However, without the right software, it's almost impossible for businesses to leverage this data effectively. Building custom applications on an integrated data, AI + IoT platform delivers the capabilities and tools needed to turn data (from anywhere and everywhere) into valuable, actionable insights in one move.
Drive revenue growth + diversification: Bundling software with hardware presents a significant opportunity for revenue growth. Software, particularly SaaS-based models, provides a steady stream of recurring revenue which is not only beneficial for suppliers, but spreads the cost of solution build for customers over its lifetime. Moreover, as software can often be updated and improved without changing the hardware, this allows for additional upselling and cross-selling opportunities.
Enhance customer satisfaction: Providing software solutions can also lead to improved customer satisfaction. It helps customers maximise the return on their investment in hardware by making it easier for them to extract, interpret, and act on the data your sensors collect. In turn, this can lead to better outcomes for their businesses, strengthening their relationship with you.
Lock-in effect: If your software delivers significant value for the customer, it can lead to a lock-in effect. This means that your customer is less likely to move away from your business and will continue to purchase the products that you are currently already servicing them with.
You can read more about what's needed to become an end-to-end solution provider in this blog.
The market opportunity.
There are a large number of reports and studies that demonstrate the market opportunity. Below, we've included those, as well as some additional findings that demonstrate the challenges and benefits for businesses, both supplier and customer.
The global industry 4.0 market size was valued at US$114.55bn in 2021 and is projected to grow from US$130.90bn in 2022 to US$377.30bn by 2029 (McKinsey: What are Industry 4.0, the Fourth Industrial Revolution, and 4IR).

Thirty-percent of IoT projects fail in the proof-of-concept stage, mainly due to the lack of necessary skills for building custom applications (Microsoft via IDC: IoT Signals Report 2019).

Companies that utilised syndicated applications saw a 20-25% reduction in development costs and time (McKinsey: Making IoT Technology Stack Up).

The Industrial IoT market is expected to grow from US$77.3bn in 2020 to US$110.6bn by 2025 (MarketsandMarkets, Industrial IoT Market Report).

Companies can achieve up to a 25% reduction in operating costs through IoT-driven efficiency improvements (GE Digital: How Industry & Smart Factories Drive Value with Lean Circular Economy Solutions).

Companies that effectively apply IoT technologies can increase their revenues by 10% over three years (Boston Consulting Group: Beyond Predictive Maintenance).
Discover what to look for in a syndicated
application provider in this blog.
Speak to us today to have a no obligation discussion about your needs, what you can achieve with syndicated applications, and to discover more about Rayven and the capabilities of the underlying technology that powers our our solutions (our Dynamix integrated Data, AI + IoT platform).